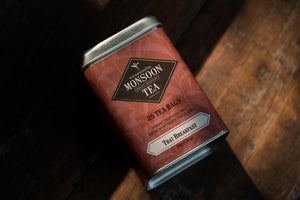 Our Thai Breakfast Blend now comes in nice separate tea bags! In the tin can, you get 25 tea bags to easily brew and enjoy at home or on the go.

Full-bodied black tea blend of Lahu Fannings, Lahu B.O.P., & Dhara B.O.P., producing our strongest tea made to drink with milk, carrying a fabulous tobacco tone.

Grown forest-friendly, hand-picked, and artisan produced to be whole-leaf and fully oxidized.

Ingredients: 100% Black Tea

The product contains 50 grams of tea. Each tea bag contains 2 grams of tea.