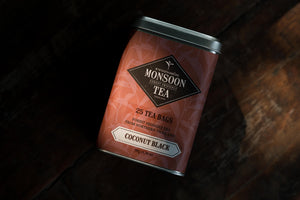 Our Coconut Black blend now comes in nice separate tea bags! In the tin can, you get 25 tea bags to easily brew and enjoy at home or on the go. 

Coconut Black combines our full-body, lightly sweet & fruity black tea with toasted coconut, producing an amber-brown coloured infusion. This tea is also delicious with milk or plant-based milk!

Our unique black tea is fully oxidized tea leaves, hand-picked while growing in harmony with the forested mountains of Northern Thailand.

The product contains 50 grams of tea. Each tea bag contains 2 grams of tea.